Dear Brothers, benefactors and friends
Thanks to your donations, for which we are very grateful, we were able to bring aid to war refugees in Poland during the month of July and support families, hospitals and soldiers in Ukraine.
After many difficulties, during the sixth trip, June 26-28, the Volkswagen Caddy car was delivered to the Pitburz School. The car was loaded with gifts, which we delivered to the Sisters: food and chemical products for the families, as well as bandages and painkillers. We brought a new defibrillator to the hospital in Boryslav, which was not available until now.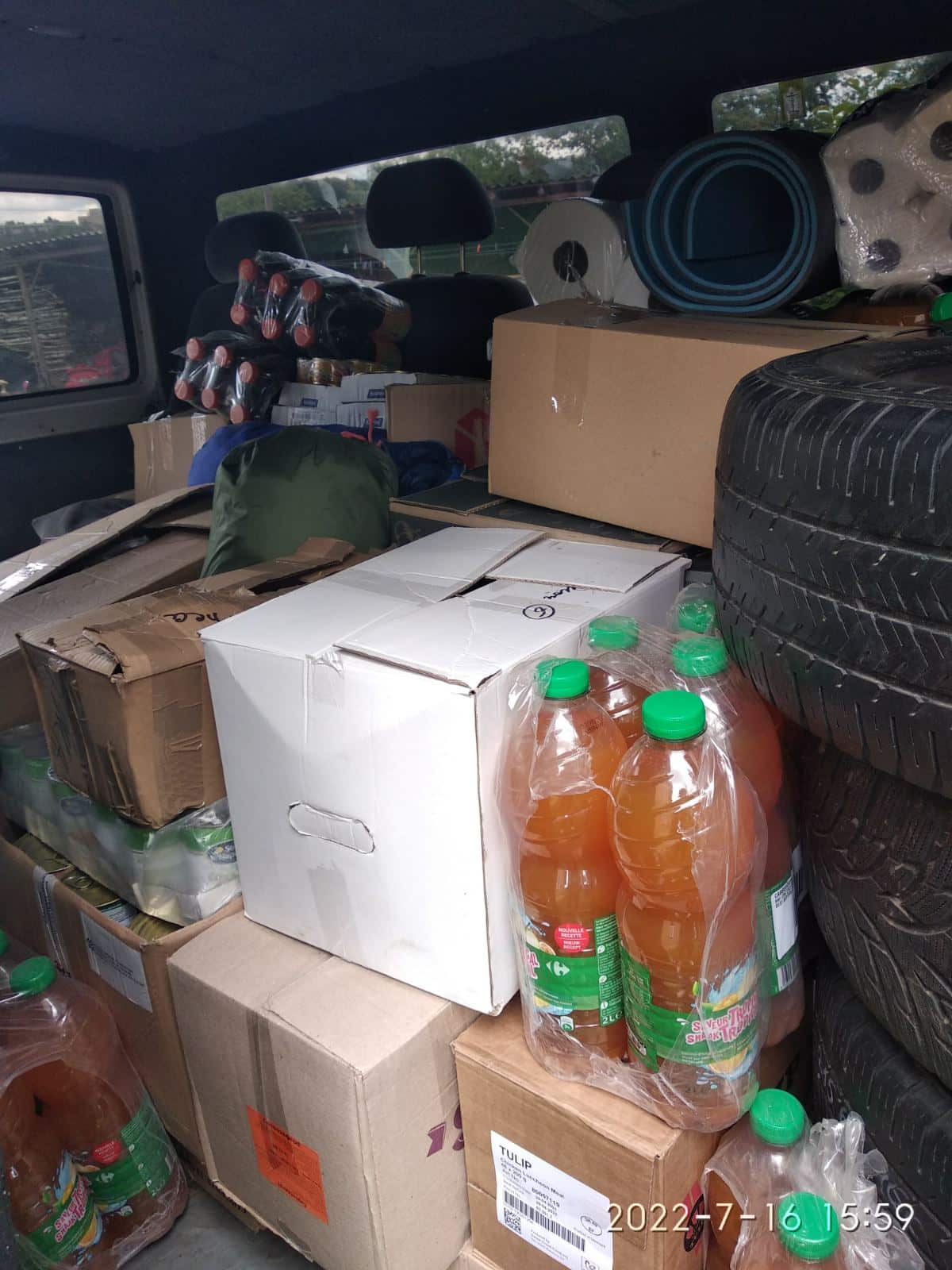 Two weeks later, from July 12 to 16, another trip took place. The trip was combined with a trip to the front line in the Donetsk region. This trip was made possible through cooperation with the Boryslav Baptists, who organize aid in the areas near the front line. After many hours of driving, we arrived at two hospitals where wounded soldiers from the front line are received.
We delivered to Konstantinov hospital an autoclave for sterilization of surgical instruments, 700 sheets, and a large number of dressing materials. We took bandaging materials and an electrocardiograph to Pokrovsk hospital. In these hospitals, everyone was very grateful for the help provided. When asked what else they needed, they asked for surgical instruments to operate on wounded soldiers, a portable ultrasound machine, bandages, pain pills, a mobile stretcher and others. Whatever we manage to buy for them will be delivered from August 10 to 13.
After visiting the hospitals, we went to see the soldiers at the front. We were 7 km away from the trenches. We donated food (canned goods, canned ready meals, sweets, etc.) and chemicals, including a large number of wet wipes, which were very useful due to the lack of access to water. We also donated gloves, binoculars, and also two night vision devices. All of these items purchased were worth about 40,000 euros. Within 2-3 hours, we were at two locations near the front. We practically constantly heard explosions of artillery fire. In the evening, after returning to Dnieper for the night, the alarm sirens sounded. It wasn't long before we witnessed an artillery bombardment. We saw rockets fly over our heads, and one of them hit 2 km from our lodging. During this trip, we traveled about 3,200 km, but thank God happily and without any bad adventures.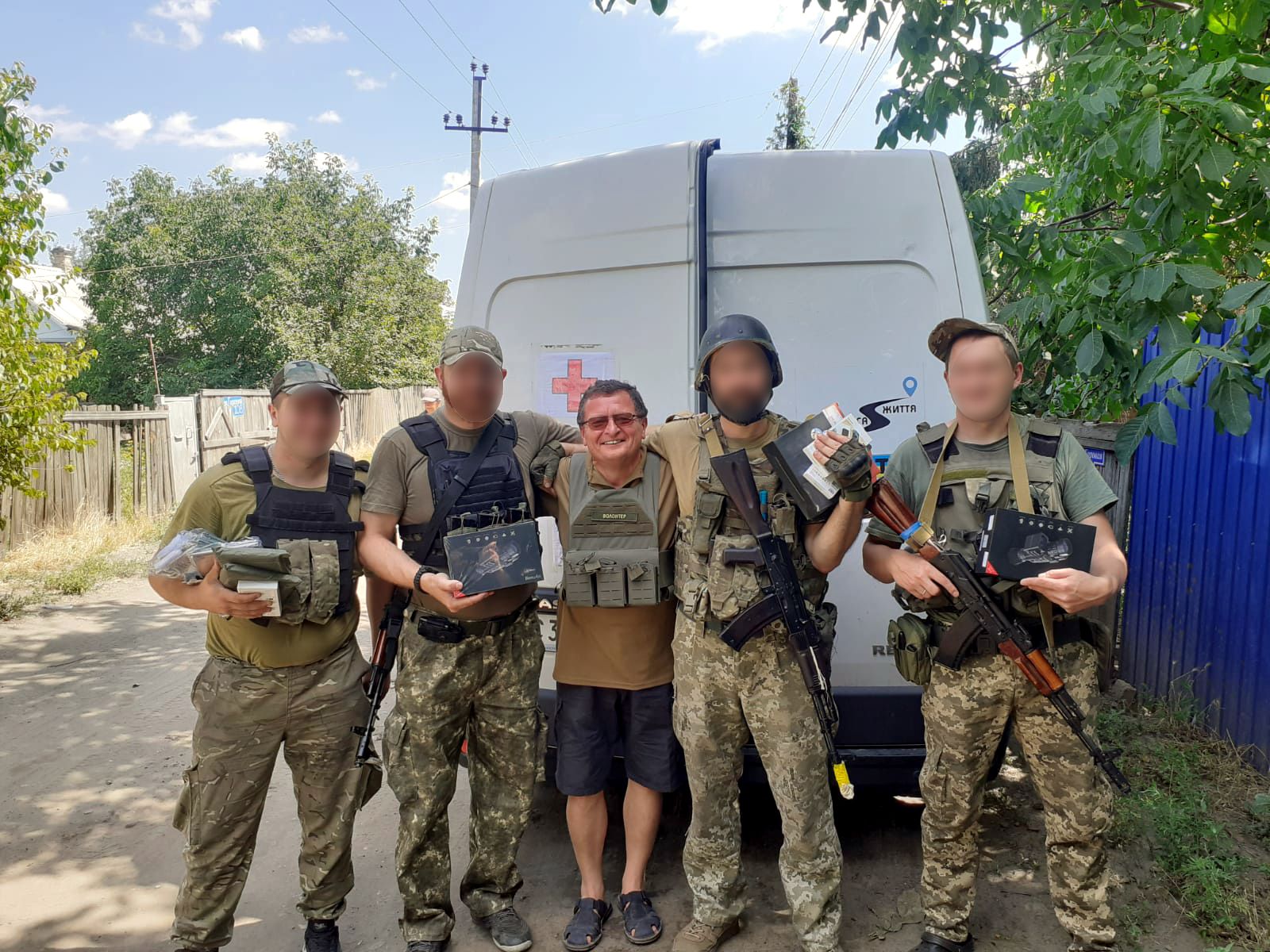 The eighth humanitarian transport was attended by Mateusz – a volunteer from Łódź. With two vehicles, we delivered a large amount of bandages, sleeping pads, painkillers and water purification tablets, soluble vitamins and minerals, as well as 40 pairs of shoes and T-shirts for the soldiers. On the way back to Warsaw we took two war refugees from Kharkiv.
In Poland, in July we provided assistance to Ukrainian families in Łódź, Warsaw and Wrocław in the amount of €12,000.
So far, thanks to all the donors, we have been able to provide about 270,000 euros of support – thank you very much!
We still have about 40,000 euros left to use. The war in Ukraine continues. We saw it with our own eyes, being close to the front line. Unfortunately, more and more cities in Ukraine are being shelled with rockets, so the number of war refugees is increasing again. We want to help the refugees, the families, the soldiers, the hospitals on the front line, but we can only bring this help thanks to your contributions. We also thank you for praying for all those who suffer. May these spiritual sacrifices ask God for mercy and an end to this war.
From July 26-30 we will travel with the Baptists to the frontline areas in and around Sumy. We will take humanitarian aid packages to the people and families living there despite the war. They are mostly elderly people. Thanks to your donations, we were able to buy products for these packages.
Once again, on behalf of the Ukrainian people, we thank you. May God reward the good-hearted.
Claretian Missionaries of Poland.